Pensacola Hydromorphone (Dilaudid) Possession Attorneys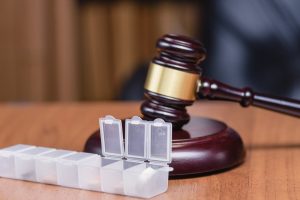 Florida considers the unauthorized possession of hydromorphone a serious crime. A conviction on this charge can carry harsh penalties, including fines and prison time. Furthermore, upon conviction, you will likely have a permanent criminal record, making it difficult to get a job or find a place to live. 
If you or a loved one is facing charges of hydromorphone possession, contact an experienced Pensacola drug crimes defense attorney at The Morris Firm. We have the knowledge and skill to build a strong defense case on your behalf. Call us today at (850) 503-2626 or complete our online contact form for a free case evaluation.
What Is Hydromorphone?
Hydromorphone, commonly known as Dilaudid, is a potent opioid analgesic used to treat moderate to severe pain. Hydromorphone is even more potent and faster-acting than morphine, from which it is derived. While this drug has legitimate medical uses, its high potential for abuse and addiction has earned it a Schedule II controlled substance designation under the Controlled Substances Act. As such, the possession, sale, and distribution of hydromorphone are subject to strict regulations and enforcement.
What Is Hydromorphone Possession?
Hydromorphone possession refers to the unauthorized holding or control of the drug, whether it's on your person, in your home, or in your vehicle. In Florida, possessing hydromorphone without a valid prescription from a licensed medical professional is illegal. Hydromorphone possession charges can vary in severity depending on the amount of the drug you have and the circumstances, ranging from simple possession for having a small amount for personal use to possession with intent to sell for large quantities.
What Are the Penalties for Hydromorphone Possession in Florida?
The penalties for hydromorphone possession in Florida vary depending on the quantity of the drug and the criminal history of the individual in possession of it. The following are potential penalties for hydromorphone possession in Florida:
Simple Possession 
If you are found with fewer than four grams of hydromorphone in your possession, you could face a third-degree felony charge. Penalties for a third-degree felony in Florida include up to five years in prison, five years of probation, and a fine of up to $5,000.
Possession with Intent to Distribute (Trafficking)
Possession of four grams or more of hydromorphone is considered trafficking, a first-degree felony. The penalties for trafficking depend on the amount of the drug involved:
Four to 14 grams – A mandatory minimum of three years in prison and a $50,000 fine

Fourteen to 28 grams – A mandatory minimum of 15 years in prison and a $100,000 fine

Twenty-eight grams to 30 kilograms – A mandatory minimum of 25 years in prison and a $500,000 fine
Additionally, a hydromorphone possession conviction could result in the suspension of your driver's license, mandatory drug treatment, and forfeiture of property.
How Do Prosecutors Prove Hydromorphone Possession?
To secure a conviction for hydromorphone possession, Florida prosecutors must prove the following elements beyond a reasonable doubt:
The defendant knowingly possessed hydromorphone

The substance in question is, in fact, hydromorphone

The defendant did not have a valid prescription for hydromorphone at the time
Prosecutors typically rely on evidence such as samples of the drug itself, testimony from witnesses, and expert analysis to establish each element of their cases.
How Can a Lawyer Help My Defense Case?
An experienced Pensacola criminal defense attorney can help build a strong defense case by:
Challenging the legality of the search and seizure – An attorney can examine the circumstances surrounding your arrest to determine whether law enforcement officers violated your constitutional rights. If they find that the officers conducted an unlawful search or seizure, they can ask the court to dismiss certain evidence against you.

Questioning the evidence – Your attorney can also scrutinize the prosecution's evidence, including the handling and testing of the drugs in question, to identify any potential weaknesses in their case.

Presenting alternative explanations – Your attorney can present evidence that casts doubt on the prosecution's version of events, such as showing that you had a valid prescription or that the drugs belonged to someone else.

Negotiating a plea bargain – In some cases, your attorney might be able to negotiate a favorable plea deal with the prosecution, resulting in reduced charges and a lighter sentence or possibly even a dismissal.

Representing you in court – If your case goes to trial, your attorney can zealously advocate for you in court, presenting a persuasive defense and working to secure a not-guilty verdict.
Why Choose The Morris Firm?
Selecting the right legal representation is critical when facing hydromorphone possession charges in Pensacola. Here's why The Morris Firm should be your top choice:
Proven track record – Attorney Brandon Morris has handled more than 3,500 legal cases and focuses almost exclusively on criminal defense. His extensive experience ranges from capital felonies to misdemeanors, meaning he is well-equipped to handle your case, no matter how complex.

Focus on criminal law – Throughout his career, Brandon has developed a superior understanding of criminal law, the rules of evidence, and trial procedures, enabling him to provide you with the best possible defense at every stage of your case.

Local roots and education – Born and raised in Pensacola, Florida, Brandon is a member in good standing with the Florida Bar and the Northern District of Florida Federal Bar. He holds a Bachelor of Arts degree from the University of West Florida and a Juris Doctor from Cumberland School of Law at Samford University. 

Client testimonials – Review our 

client testimonials

 to see firsthand why local individuals and families trust The Morris Firm with their defense cases. Contact Brandon today if you have an outstanding criminal complaint or legal inquiry.
Contact an Experienced Pensacola Criminal Defense Attorney Today
A conviction on hydromorphone possession charges in Florida can have life-altering consequences. To protect your rights, future, and freedom, it's essential to enlist the help of a seasoned Pensacola criminal defense attorney as soon as possible after you learn of the charges against you. At The Morris Firm, we have the knowledge, experience, and dedication to provide you with the aggressive representation you need.
Don't hesitate to contact us for a free case evaluation. Call us today at (850) 503-2626 or complete our online contact form to discuss your case and learn how we can help you navigate Florida's complex legal system.