Pensacola Methadone Possession Attorney
Methadone possession charges in Florida are a serious matter. If convicted, you may serve a lengthy prison sentence and pay hefty fines. Furthermore, future potential employers and landlords will be able to view your conviction on your permanent record, potentially keeping you from finding work or a place to live. If you are facing methadone possession charges, you need the help of an experienced defense attorney.
The seasoned Pensacola drug crimes lawyer at The Morris Firm has the experiences and resources necessary to fight for your rights and liberties. The sooner you consult with a member of our legal team, the sooner we can get to work on your defense. Call us today at (850) 503-2626 or contact us online for a free case evaluation to learn more about your legal options.
What Is Methadone?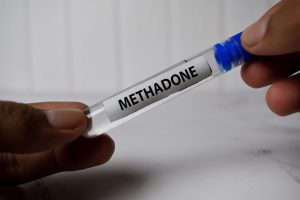 Methadone is a prescription drug that is often used to treat severe pain and addiction to opioids such as heroin and morphine. It is known by a variety of other names, including:
Symoron
Dolophine
Amidone
Methadose
Although healthcare professionals prescribe the drug to treat addiction, methadone is a synthetic opioid itself. As such, it is also an addictive substance. Methadone can present serious dangers when it is combined with other drugs.
Law enforcement authorities in Florida have been cracking down more strictly on methadone possession due to a growing rate of abuse. In a recent year, methadone-related deaths increased by 21 percent. Because of the dangers of this drug, those found in possession of methadone face severe penalties.
Penalties for Methadone Possession in Florida
The United States Food and Drug Administration (FDA) considers methadone a Schedule II controlled substance because of its high potential for abuse and addiction. While possession is legal with a prescription, those who obtain methadone without a valid prescription may face healthcare fraud charges in addition to criminal possession charges.
As with other Schedule II opioids, methadone possession in Florida is a third-degree felony. As such, those convicted of this crime can face a prison sentence of five years and a fine of up to $5,000.
If you are found in possession of over four grams of methadone, you could face trafficking charges. A conviction carries a minimum three-year prison sentence and a fine of at least $50,000.
The authorities will begin building their case against you immediately, so you will need an aggressive criminal defense lawyer to protect your freedom. Our attorney will do everything he can to get the court to reduce or dismiss the charges against you.
Proving Methadone Possession
Prosecutors must be able to prove beyond a reasonable doubt that you are guilty of methadone possession to convict you. If they cannot do so, you will avoid the harsh penalties that come with a conviction.
If police officers arrested you because methadone was in your vicinity, proving that you had constructive possession of the drug is less straightforward than you might realize. Prosecutors will need to prove that:
You had actual knowledge of the methadone
The material the authorities seized was actually methadone
You had control of the methadone
Prosecutors will work aggressively to prove their case. Hiring an experienced drug possession attorney as soon as possible can help you construct a case to fight back.
Methadone Possession Defenses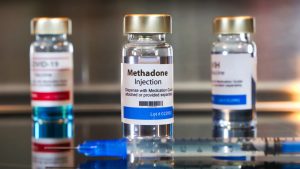 While several possible defenses to methadone possession may be available, you will need a skilled attorney to help you present the most appropriate legal argument possible to the court. Possible defenses that might apply to your case include:
You Did Not Realize the Methadone Was in Your Possession
One of the most common defenses for a methadone possession charge is a lack of knowledge. If you were unaware that you had an illegal substance in your possession, the court could not convict you of the crime. For instance, the mere presence of methadone in your shared living room does not constitute surefire evidence that you knew the drug was there. Without supporting evidence, the court will be unable to convict you.
You Did Not Know the Substance in Your Possession Was Illegal
If your friend gave you a bottle of a red liquid to carry for them and told you it was cough syrup, you would have no reason to know that the substance in the bottle was methadone. A seasoned attorney can use this lack of knowledge to defend you against possession charges.
The Item in Your Possession Was Not Illegal 
When law enforcement authorities arrest you for possession, they must send the substance to a chemist at the Florida Department of Law Enforcement (FDLE) for testing. If they determine that the substance the police found on you was not an illicit drug, the court cannot convict you of the crime.
The Police Did Not Have the Right to Search You
If the police found the methadone during an illegal search and seizure, our attorneys can move to dismiss the evidence they obtained. Without such evidence, the court cannot find you guilty of the crime.
Why Choose The Morris Firm?
If you are facing methadone possession charges in Pensacola, you need a skilled and knowledgeable drug crimes attorney to guide you through the challenges you are facing. Brandon Morris has experience handling thousands of criminal cases of all varieties. He will use his thorough knowledge of Florida drug laws, the rules of evidence, and trial procedures to protect your rights.
Brandon is a lifelong Pensacolian dedicated to helping the members of his community when they need it the most.
Contact a Pensacola Methadone Possession Attorney
If you have been arrested for or charged with methadone possession, you need an aggressive defense lawyer to protect your rights and liberties. The Pensacola defense attorney at The Morris Firm will help you understand what steps you can take to achieve the most favorable outcome possible in your case. Our experienced lawyer will listen to your story without judgment and will fight for you every step of the way.
Call us today at (850) 503-2626 or contact us online for a free case evaluation to learn more about how we can help you.